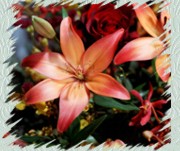 Keep an open mind when looking at flowers & arrangements for your wedding. Sometimes a bride will select something completely different from her original ideas.

Before our first meeting the bride should become more aware of flowers if possible and save photos of bouquets or specific flowers she or her fiancee have seen in books or magazines. Even if the bride has no idea of what types of flowers she likes, her tastes will become apparent as soon as she starts looking at specific flowers and at previous weddings.
A deposit is required, with final balance due 2 weeks prior to your event.
Can Someone Visit One of Your Receptions?
Future clients may visit weddings designed and coordinated by Instincts. However, please keep in mind, freshness and quality should be the primary concern. The style of the flowers were selected by the bride & groom of the wedding you are visiting. If you like the style, as well as the quality & freshness of the flowers, that is an added bonus.